Rob Challingsworth
Facilities Manager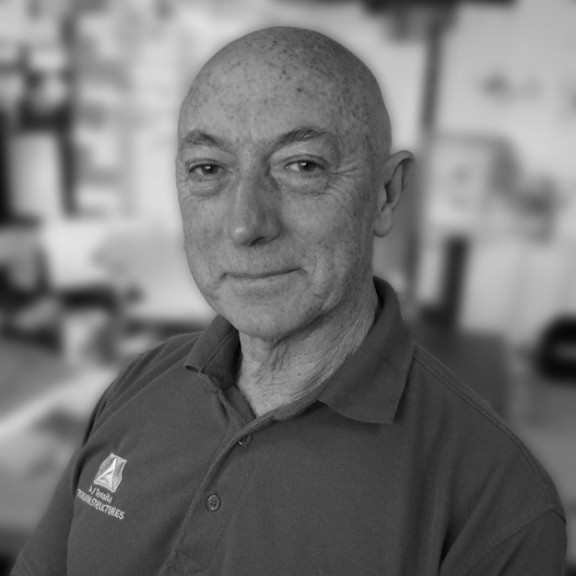 Rob trained as a textile engineer in the 1960s and at the end of his apprenticeship was offered a position with Kai Langebeck (UK) Ltd and tasked with the automation of the Lancashire and Oslo based manufacturing units. He spent five years with the company before he was tempted away by Envopak Industrials Ltd Burnley, where as Technical Engineer he was responsible for the day to day running of a high volume manufacturing unit with over 120 staff members producing 1.2 million security seals per week. During the restructuring phase his duties included the relocation of all London-based manufacturing units to Burnley, implementing training systems, Health and Safety systems and quality systems for BS 5750.
Rob retuned to Wales just before the turn of the millennium and was employed by Architen Landrell in the maintenance department, tasked with the development of PTFE manufacturing. During his time there he set up and trained operators for the sewing department, and was also responsible for the 350 metres of wiring on Architen Landrell's iconic Spiky Pod project.
In 2005 he was approached by Base Structures. Initially his position was to run the sewing loft and interiors section, but was soon promoted to Production Manager where his duties included the restructuring and multi-skill training for employees across three manufacturing units. Other responsibilities included maintaining the training matrix, tool box talks, and implementing quality procedures. Rob managed all production on the prestige Heathrow Terminal 5 project and worked on prototype biogas holders and ARSC covers.
During 2008 Base used  AJ Tensile Fabrications for production overflow and during his visits Rob was so impressed by their "can do attitude" he joined the company in September 2008 as Works Manager. In the years that Rob has been at AJ the company has grown from six employees to over 25, and Rob's role has evolved to the position of Facilities Manager covering many responsibilities including Health & Safety Management , ISO maintenance and systems development.